Superintendent's Office
Superintendent Erik Edoff
Winter 2017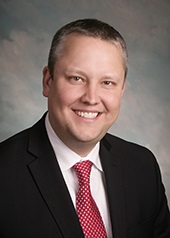 Since the beginning of my tenure as superintendent in the spring, I have hosted several "Listen and Learn" events with staff, students and community members in an effort to better understand what L'Anse Creuse is doing right and where we need to make improvements. Though each building and group may have specific ideas or concerns, the majority of what I have heard is very similar: We are a strong community that is proud of its students and staff, and the district's ability to serve the diverse needs of our students.
As you know, L'Anse Creuse is more than a school district; we are the glue that connects several townships filled with diverse individuals. No matter our backgrounds, we all have one common thread: our students and their success. Whether you are retired with adult children, in the thick of raising school-aged children, or just getting ready to start a family, we all understand high-caliber schools translate into successful students and a bright future for our community.
The collaboration between our schools and community is vital. Businesses are giving our students firsthand experiences in the workforce through job shadowing opportunities and externships, and our students and staff are giving back to the community through service-learning projects and fundraisers. Evidence of this synergy can be seen throughout this newsletter.
With all the accolades we receive, I wouldn't be doing my job unless I also focused on the areas that need attention. Overall, the feedback we gathered highlighted the importance of increasing student opportunities and enhancing communication. While we are praised for serving the diverse needs of our students, we know that those needs are constantly evolving. With that in mind, we have several teaching and learning experts focused on providing greater focus and assistance to our students to fuel their drive to learn.
Improving communication is a top priority of mine, and I can assure you that we are focused on making improvements in that area, including how we keep parents informed and maintain several opportunities for two-way communication. The district's new website and the ongoing "Listen and Learn" events with staff and the community are just some of the steps we are taking, and there will be more to come. As we close the book on 2017 and start the first chapter of 2018, I am filled with pride and anticipation. I am eager to see the new heights our students and staff will reach as they launch from our strong foundation built and sustained by a wonderful community.
I wish you a wonderful holiday season and a Happy New Year.
LCPS Pride Newsletter (Accessible)
2017-18 School Year

June 13, 2018 LCPS Pride Newsletter (text only)


May 30, 2018 LCPS Pride Newsletter (text only)


May 16, 2018 LCPS Pride Newsletter (text only)


May 1, 2018 LCPS Pride Newsletter (text only)


April 17, 2018 LCPS Pride Newsletter (text only)


March 27, 2018 LCPS Pride Newsletter (text only)


March 13, 2018 LCPS Pride Newsletter (text only)


March 1, 2018 LCPS Pride Newsletter (text only)


February 14, 2018 LCPS Pride Newsletter (text only)
Erik Edoff
Harry L. Wheeler Community Center & Admin. Offices
Administration
Superintendent
Phone: 586-783-6300
Nicolette Trask
Harry L. Wheeler Community Center & Admin. Offices
Administration
Administrative Assistant
Phone: 586-783-6300