Superintendent's Welcome
Superintendent Erik Edoff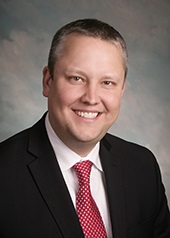 Hello and welcome to the Superintendent's page. I am proud to serve as the Superintendent of this great district and have called L'Anse Creuse home for more than 20 years.
L'Anse Creuse is more than a school district; we are the glue that connects several townships filled with diverse individuals. No matter our backgrounds, we all have one common thread: our students and their success. Whether you are retired with adult children, in the thick of raising school-aged children, or just getting ready to start a family, we all understand high-caliber schools translate into successful students and a bright future for our community.
I hope you take the time to navigate through our website and learn of the amazing things happening in L'Anse Creuse and the first class educational opportunities we provide. Feel free to visit the Community Education page where we also offer many youth and adult enrichment programs such as swim, trips and tours, senior citizen programs, fitness, special interest classes, arts and crafts and much more.
Please take a moment to enjoy the LCPS Spotlights section, the LCPS Pride Newsletters and the NEW Living L'Anse Creuse magazine provided below to hear about the wonderful stories of our students, staff and community.
Thank you for being a part of the L'Anse Creuse Community!

Erik J. Edoff
LCPS Spotlights
Note for LCPS Alumni
In the coming weeks, you may receive a call or email from a company called PCI soliciting your information. Please know that it is NOT a scam! The district is working with this company to produce an alumni directory that is available to purchase. Please note that you are under no obligation to provide your personal information or make any purchases, and any information you do provide will not be given to any third-parties.​ Thank you!
LCPS Pride Newsletters
LCPS Pride Newsletters are filled with stories shared by L'Anse Creuse staff members througout the district. Click on the newsletters below to hear what is happening across the district!

2018-2019 School Year
September 25, 2018 LCPS Pride Newsletter
October 10, 2018 LCPS Pride Newsletter
2017-2018 School Year

June 13, 2018 Pride November 6, 2017
May 30, 2018 Pride October 23, 2017
April 17, 2018 Pride October 16, 2017
March 27, 2018 October 9, 2017
March 13, 2018 October 2, 2017
March 1, 2018 September 25, 2017
December 18, 2017 September 19, 2017
December 4, 2017
November 20, 2017
LCPS Pride Newsletter (Accessible)
2018-19 School Year

September 25, 2018 LCPS Pride Newsletter (text only)


October 10, 2018 LCPS Pride Newsletter (text only)
2017-18 School Year

June 13, 2018 LCPS Pride Newsletter (text only)


May 30, 2018 LCPS Pride Newsletter (text only)


May 16, 2018 LCPS Pride Newsletter (text only)


May 1, 2018 LCPS Pride Newsletter (text only)


April 17, 2018 LCPS Pride Newsletter (text only)


March 27, 2018 LCPS Pride Newsletter (text only)


March 13, 2018 LCPS Pride Newsletter (text only)


March 1, 2018 LCPS Pride Newsletter (text only)


February 14, 2018 LCPS Pride Newsletter (text only)
Erik Edoff
Harry L. Wheeler Community Center & Admin. Offices
Administration
Superintendent
Phone: 586-783-6300
Nicolette Trask
Harry L. Wheeler Community Center & Admin. Offices
Administration
Administrative Assistant
Phone: 586-783-6300
Central Office Administration
Curriculum & Instruction
Lisa Montpas
Assistant Superintendent
586-783-6300, ext. 1310
Business Office
Rochelle Gauthier
Assistant Superintendent
586-783-6300, ext. 1212
Human Resources
Michael Van Camp
Assistant Superintendent
586-783-6300, ext. 1211
Special Education
Nancy Supanich
Director
586-783-6300, ext. 1011
School & Community Relations
Kelly Allen
Director
586-783-6300, ext. 1206