Residents 55 & Up
Join the L'Anse Creuse Fan Club
Residents 55 and over are invited to get the "L'Anse Creuse Fan Club" card which entitles the bearer to the following at no cost: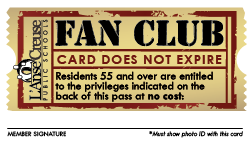 Student class plays at school
District athletic events
FREE coffee at the Creuse Cafe' at Pankow Center (with a purchase) - click here to view menu & hours
Special events and invitations

The card will also admit you to events at the John R. Armstrong Performing Arts Center at the student rate!
---
Apply by Mail
To get your card, send your
Name
Address, City/Zip
Email address
to the following address:
School & Community Relations Office
Harry L. Wheeler Community Center and Administrative Offices
24076 F. V. Pankow Boulevard
Clinton Township, MI 48036
For more information, please call 586-783-6300 ext. 1207 or email tilleme@lc-ps.org.