L'Anse Creuse High School

38495 L'Anse Creuse Road

Harrison Township

,
MI
48045-3483

P:
(586) 783-6400

F:
(586) 783-6408

Daily Bell Schedule
MONDAY/TUESDAY/THURSDAY/FRIDAY
First Hour: 7:11am-8:16am
Second Hour: 8:22am-9:22am
Third Hour: 9:28am-10:28am
Fourth Hour: 10:34am-12:04pm
A Lunch: 10:34am-11:04am
B Lunch: 11:04am-11:34am
C Lunch: 11:34am-12:04pm
Fifth Hour: 12:10pm-1:10pm
Sixth Hour: 1:16pm-2:20pm
Early release bell schedule
WEDNESDAY (beginning 9/14/22)
First Hour: 7:11am-8:01am
Second Hour: 8:07am-8:57am
Third Hour: 9:03am-9:53am
Fourth Hour: 9:59am-11:29am
A Lunch: 9:59am-10:29am
B Lunch: 10:29am-10:59am
C Lunch: 10:59am-11:29am
Fifth Hour: 11:35am-12:25pm
Sixth Hour: 12:31pm-1:20pm
HALF DAY BELL SCHEDULE
1st Class: 7:11am-8:45am
2nd Class: 8:56am-10:30am
Final Exam Bell Schedule
1st Exam: 7:11am-8:50am
2nd Exam: 9:02-10:41
In an effort to streamline Covid-19 cases that are being reported, the district has created an electronic reporting form for students that have tested positive for Covid-19.
Going forward:
If your child should test positive for Covid-19, please use the following link to
access & complete the Covid-19 Reporting Form. https://lcps.formstack.com/forms/l_anse_creuse_public_schools_covid_reporting
Once your information has been submitted, a notification will be sent to Ms. Brooks, LCPS CDC Representative & to LCHS. You do not need to call LCHS to report that your child has tested positive for Covid-19.

Ms. Brooks will contact you with your child's quarantine dates.

Your child's absences will be marked accordingly based on the information provided in the reporting form.
Should you have a general question regarding Covid-19, please email Ms. Brooks or contact her at (586) 783-6300 ext. 1120.
Store Hours: Monday-Friday, 10:38 am to 12:08 pm (A, B and C Lunches)
The Lancer Locker Room Website
Have questions, comments or requests?
Lancer Locker Room or call 586-783-6400 ext. 2650
We carry a variety of Lancer apparel!
MME-HOW TO READ YOUR CHILD'S SCORE REPORT
Students are able to submit tips 24/7 by telephone, text, email, mobile application, and via a web-based form.
Tips can be filed on a wide range of issues, including:
planned school attacks
weapons at school
assault
bullying/cyberbullying
threats
gang activity
For more information and resources, please visit the LCPS OK2SAY Page
PANDEMIC EBT Students with Free/Reduced Lunch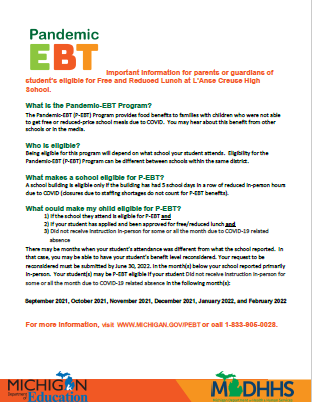 SPECIAL DIETARY NEEDS FORM
Quick LinkS

Student Expectations 2019-20


Bullying Policy


Cell Phone Use Practices


District-Wide Dress Code


Legal Notices 21-22


Core Values


Student Drop Off Procedure (UPDATED 1/19/23)


Student Pick Up Procedure (UPDATED 12/8/22)


LCPS COVID-19 Preparedness and Response Plan

Curriculum Guidebook 2022-2023


Student Handbook/Code of Conduct


PaySchools-Online Payments


Driver's Training


Lancer Locker Room - Online School Store