L'Anse Creuse High School

38495 L'Anse Creuse Road

Harrison Township

,
MI
48045-3483

P:
(586) 783-6400

F:
(586) 783-6408

Welcome to LCHS
LCHS Mission
Our mission is to educate, build character and instill integrity in every student so they are able to make a seamless and successful transition to post-secondary education or employment and become productive members of this ever-changing global society.
LCHS Vision
Lancer Country is a community where all stakeholders are accepted, valued and respected as individuals. Stakeholders demonstrate the core beliefs of Learning, Community, Honor and Service daily in order to shape educational plans, actions and programs.
Alysia Samborsky
Principal
Rebecca Schroll-Riedel
Associate Principal (Students M-Z)
Lauren Kramer
School Resource Officer
Ronald Martin II
Dean of Students
Ryann Stocker
Athletic Coordinator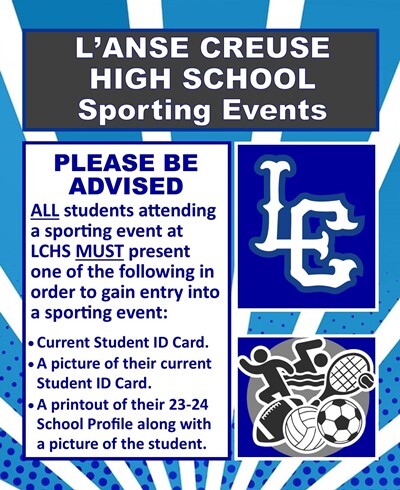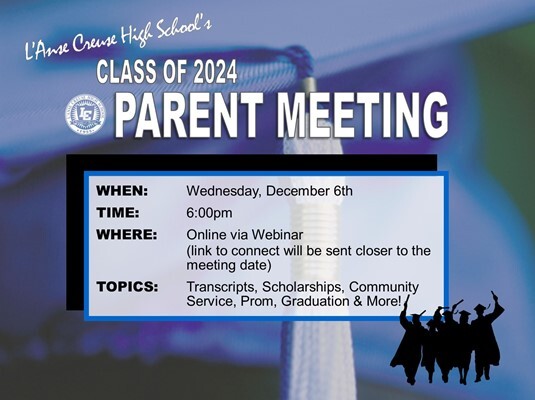 ENROLLMENTS
Enrollments are done by appointment only. Please call Mrs. Wrubel at 586-783-6400 ext 1211 to make an appointment to enroll your student(s).
Enrollment Packet For High School (Grades 9-12)*
*Please bring the COMPLETED Enrollment Packet with you at the time of your appointment. An enrollment packet is required for each student you are enrolling.

HAVE YOU MOVED & need to change your address?
If you recently moved and need to update your address with us, you must provide one (1) proof of residency from each category below:
Category #1:
Mortgage Statement
Current Property Tax Statement
Lease (parent's name must be listed on lease)
Category #2 (MUST be current and dated within 30 days of registration):
Utility Bill
Cell Phone Bill
Current Auto Loan or Lease
Insurance Statement
Bank Statement
If you are unable to provide any of the items listed above or have any questions, please contact Mrs. Wrubel at LCHS at 586-783-6400 ext 1211.

23-24 Parking Permits
If your child will be driving to school at any point throughout the 23-24 school year, a parking permit must be purchased in order to do so.
Parking Permits are $30.00
Parking permits are processed electronically only.
In order for a parking permit to be issued to your student, please complete the following. Payment and all of the required information must be submitted before a parking permit will be issued.
Login to SchoolPay to pay for your parking permit

Access the 23-24 Parking Permit Form, completing the required areas and submitting pictures of the students driver's license and the vehicle registration of each vehicle that needs to be permitted.

The parking permit will be distributed to your student during school once it is processed.
If you have any questions, please email Mrs. Trombley in the Main Office.

FREE MEALS FOR STUDENTS
SCHOOL YEAR 2023-2024
Thanks to the Michigan School Meals Program, L'Anse Creuse is excited to offer 1 FREE Breakfast and 1 FREE Lunch each school day, to all students during the 2023-2024 School Year! All smart snacks and extra entrees will be available at a reasonable cost.
IMPORTANT!
We still need your household to complete the Education Benefit Form. This form is critical in determining the amount of money that our school receives from a variety of State and Federal supplemental programs like Title I A, At-risk (31a), Title II A, E- Rate, etc. These supplemental programs have the potential to offer supports and services for our students including, but not limited to:
Instructional supports (staff, supplies & materials, etc.)
Non-instructional services (counseling, social work, health services, etc.)
Professional Learning for staff
Parent and Community engagement supplies and activities
Technology
Complete the Education Benefit Form online at our Family Portal:
https://lansecreuse.familyportal.cloud
For more information, please access the EBF Information Flyer . Questions? Please contact the LCPS Food & Nutrition Department at (586) 783-6550.
Prefer to print the Education Benefit Form & submit it to the office at LCHS? Access the Education Benefit Form.
Calendar

Elementary 1/2 Day - Teacher Records Day

Calendar:

District Calendar

LCHS Class of 2024 Senior Parent Meeting (Webinar)
Daily Bell Schedule
MONDAY/TUESDAY/THURSDAY/FRIDAY
First Hour: 7:11am-8:16am
Second Hour: 8:22am-9:22am
Third Hour: 9:28am-10:28am
Fourth Hour: 10:34am-12:04pm
A Lunch: 10:34am-11:04am
B Lunch: 11:04am-11:34am
C Lunch: 11:34am-12:04pm
Fifth Hour: 12:10pm-1:10pm
Sixth Hour: 1:16pm-2:20pm
Early release bell schedule
WEDNESDAY (beginning 9/13/23)
First Hour: 7:11am-7:56am
Second Hour: 8:02am-9:13am
Third Hour: 9:19am-10:04am
Fourth Hour: 10:10am-11:40am
A Lunch: 10:10am-10:40am
B Lunch: 10:40am-11:10am
C Lunch: 11:10am-11:40am
Fifth Hour: 11:46am-12:30pm
Sixth Hour: 12:36pm-1:20pm
HALF DAY BELL SCHEDULE
1st Class: 7:11am-8:45am
2nd Class: 8:56am-10:30am
Final Exam Bell Schedule
1st Exam: 7:11am-8:50am
2nd Exam: 9:02-10:41
In an effort to streamline Covid-19 cases that are being reported, the district has created an electronic reporting form for students that have tested positive for Covid-19.
Going forward:
If your child should test positive for Covid-19, please use the following link to
access & complete the Covid-19 Reporting Form. https://lcps.formstack.com/forms/l_anse_creuse_public_schools_covid_reporting
Once your information has been submitted, a notification will be sent to Ms. Brooks, LCPS CDC Representative & to LCHS. You do not need to call LCHS to report that your child has tested positive for Covid-19.

Ms. Brooks will contact you with your child's quarantine dates.

Your child's absences will be marked accordingly based on the information provided in the reporting form.
Should you have a general question regarding Covid-19, please email Ms. Brooks or contact her at (586) 783-6300 ext. 1120.
LANCER COUNTRY NEWS SCHOOL YEAR 2023-2024
Store Hours: Monday-Friday, 10:38 am to 12:08 pm (A, B and C Lunches)
The Lancer Locker Room Website
Have questions, comments or requests?
Lancer Locker Room or call 586-783-6400 ext. 2650
We carry a variety of Lancer apparel!
MME-HOW TO READ YOUR CHILD'S SCORE REPORT
Students are able to submit tips 24/7 by telephone, text, email, mobile application, and via a web-based form.
Tips can be filed on a wide range of issues, including:
planned school attacks
weapons at school
assault
bullying/cyberbullying
threats
gang activity
For more information and resources, please visit the LCPS OK2SAY Page
SPECIAL DIETARY NEEDS FORM
Quick LinkS

Student Expectations 2019-20


Bullying Policy


Cell Phone Use Practices


District-Wide Dress Code


Core Values


Student Drop Off Procedure (UPDATED 1/19/23)


Student Pick Up Procedure (UPDATED 12/8/22)


LCPS COVID-19 Preparedness and Response Plan

Curriculum Guidebook


Student Handbook/Code of Conduct


Driver's Training