About the Teacher

About Mrs Thuman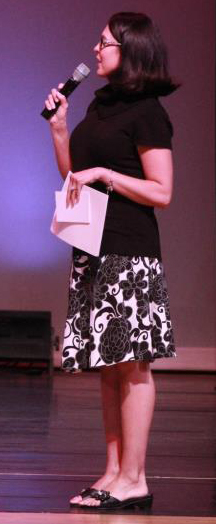 Mrs. Niki Thuman is the LCPS PA Dance teacher. Before joining the faculty at L'Anse Creuse she taught high school dance at Arts Academy in the Woods. She also has taught in a studio setting for the past 21 years. She has a bachelor's degree in Performing Arts (Dance), a master's degree in the Art of Education, and certification in dance K-12 and elementary education K-6. Mrs. Thuman earned her undergraduate degree from Oklahoma City University which has a highly regarded dance program. She later earned her master's degree from Marygrove College. She has danced professionally in shows such as EFX starring Michael Crawford and David Cassidy, Dino, and Country Tonite. When she was sixteen she performed in Russia, Sweden, Denmark, and Poland through a dance exchange program. Mrs. Thuman also danced for Maloney productions at the Detroit Zoo, and in New York City, NY. She was a studio owner in Washington for 2 years before selling the business to move back home to Michigan after she had her first son.
Recently, Mrs. Thuman won a choreography award from American Dance Awards, had a senior soloist win over-all high score, and had a petit soloist win Petit Miss Dance of Michigan. She also has former students who are studying dance in college at colleges such as Juilliard, PACE University, Western Michigan University, Oklahoma City University, and Wayne State. Further, she has former students who are dancing in New York City, LA, and other cities throughout the United States as well as Europe. Lastly, Mrs. Thuman is certified by Dance Masters of America, and the Cecchetti Council of America.
Family
Mrs. Thuman is married and has two sons. Her husband, was also a dancer, and they met while dancing professionally in the show Country Tonite. Her oldest son, Jaden is a high school student. Jaden plays Lacrosse for Clarkston Community Schools. Jaden is also a very talented artist! Her youngest son, Chance is also in high school. Chance plays football, basketball and dances. He is a member of the Pistons Performing Arts Academy teen team. He also dancing professionally for the Pistons Entertainment Youth Elite Team. Mrs. Thuman also have two cats, Chloe and Nala.
Philosophy
Mrs. Thuman believes that ballet is the core of all dance forms however it is important in today's world to be a well-rounded dancer. Ballet will be used to supplement technique, but it will not be the main focus. Jazz will be the main focus of this class but technique will also be taught in modern, improvisation, lyrical, and choreography. Along with daily technique classes students will also be learning dance history, vocabulary, and will be asked to think and express themselves as artists. She hopes that students come out of this class with a love for and strong understanding of dance
Process
Mrs. Thuman's main focus will always be educating your child with the most recent and up to date material available. Thus, she attends teacher seminars as well as conventions to further her education. As always, she is concerned that your student(s) is succeeding in all their areas of education at L'Anse Creuse Schools. Therefore, she will be working with fellow teachers to provide your student with the best education possible. She is excited and looking forward to a great year here at Pankow!