Kindness is Contagious at Higgins!
Higgins Elementary is a Bucketfilling School!
The Bucketfilling philosophy is to create a safer, kinder, more respectful school culture where children are ready to learn. The basic premise is that when you do nice and kind things for others you fill their buckets and you fill your own as well. Higgins celebrates Bucketfilling monthly in school-wide assemblies and the classroom that has filled the most buckets is recognized.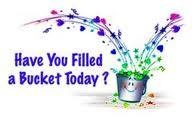 Here at Higgins Elementary we are respectful, responsible, kind, and safe.