Graham Staff
Mrs. Allmacher
Welcome to Mrs. Allmacher's Website!
I am looking forward to a fantastic year at Graham Elementary! We will be busy this year learning and growing. The classroom theme is frogs (F.R.O.G.S.). F.R.O.G.S. stands for Fully Responsible Organized Growing Students. I will work diligently throughout the year to help the students be the best F.R.O.G.S. they can be!!
Here is some important information you will need to know.
Contact Information
Mrs. Michele Allmacher
allmami@lc-ps.org
586-783-6460 ext. 2104
Specials Schedule
Monday - Gym
Tuesday- Gym
Wednesday - Spanish
Thursday - Art
Friday - Music
Homework
Students will receive a homework packet on Monday and should complete it and return it to school on Friday each week.
Snack
Students will have a snack break each day. Please make sure your child brings in a healthy, simple to eat snack each day.
Dreambox

Dreambox is an amazing math tool your child can use at home. Click on the link below to access Dreambox. Your child knows his/her password.
Ms. Brocker-Querio
Welcome to Spanish
My name is Meribeth Brocker-Querio, Maestra or Ms. Querio to the kids, and I have been an Elementary Spanish teacher here at L'Anse Creuse since 1998.
I was born and raised just down the road in Mt.Clemens, and graduated from MCHS in 1989. After high school I traveled to Oaxaca, Mexico as a Rotary exchange student for one year.
I attended The University of Arizona after my travels, to stay close to Mexico, but later transferred to Eastern Michigan University (out of state tuition is expensive!). However, I was lucky enough to do my student teaching at a bilingual school in Mexico City, where I was later hired to teach kindergarten for a year.
I have my Master's degree in Educational Leadership, but I am a life long learner. I am always taking classes in things that interest me or make me a better teacher!
E-Mail: brockme@lc-ps.org
Ms. Christman
Welcome to Ms. Christman's Second Grade Learning Jungle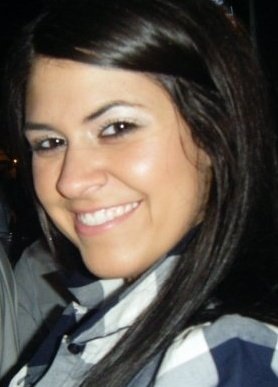 586-783-6460 ext 2425
chriser@lc-ps.org
All About Ms. Christman... The Queen of the Jungle
I am so excited to be your child's teacher this year! My name is Erica Christman and I have been teaching for 13 years here at Graham Elementary. I have both my Bachelor's and Master's degrees from Michigan State University (GO SPARTY!) and just love being a teacher. Recently, I have worked and raised money for various charities; The L'Anse Creuse Foundation, Susan G. Koman,
St. Jude's, Macomb County Animal Control, and Paws for Life. I love animals, especially POODLES, and have my very own rescue dog, Maxwell. I also took in a stray cat who we call Kitty. You will hear lots of stories about these two! I enjoy shopping, shoes, spending time with friends & family, golf, organizing and cooking. I am very creative, organized, loud and energetic! I cannot wait to spend this year with you and your child! Welcome to the jungle!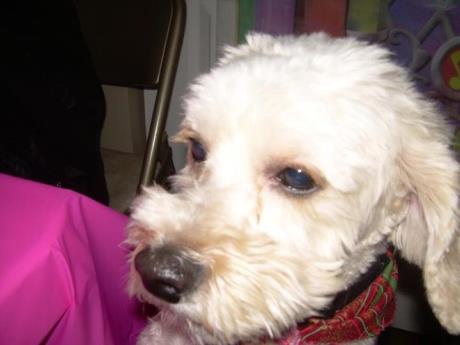 Recess/Lunch:
Recess and lunch will be from 11:55-12:25 each day. If you are sending in lunch money, it is very important that you place it in an envelope with your child's name and my name on the front. Thank you!
2017-2018 Specials Schedule:
| | | | | |
| --- | --- | --- | --- | --- |
| Monday | Tuesday | Wednesday | Thursday | Friday |
| Gym | Art | Spanish | Music | Gym |
Gym shoes will be needed on: Mondays and Friday,
Homework folders & books are due on Fridays.
I will send a note on updated library and computer lab days/times.
Homework:
Your child will bring their homework folder home on Monday. Please follow the homework grid and complete the assigned tasks each night. On Friday, please return the homework folder with all completed sheets and homework book.
This homework book will be a book at their independent reading level and should be read each night to build fluency. Those students that work their way up to a chapter book, will just read a chapter or two a night. It is VERY important to complete all the homework pages and return the book on Friday mornings. I will be reading with them to make sure they have practiced that book and know their word wall words for the week.
All students are to practice their weekly 10 word wall words. Those students who pass their pretest for the K-2 spelling will receive an advanced spellers list in their homework folder. Those are the words to study for their assessment on Friday. All students will need to complete the word wall handout in the packet with the K-2 words as part of the homework despite what list they are on.
*Reminder: All work is to be done by your child. I do not want to see adult writing on the pages. The homework should look like a "2nd grader's" work. Harder words can be stretched out OR you can help them correct some of their spelling and punctuation. That is what I want to see!!! As the year goes on, you will see improvement in their homework! It does NOT have to be perfect. I am just looking to see that they are trying their best and improving!
Snack:
Be sure to send a healthy snack for your child every morning! This year, I have several students with nut allergies and therefore ask that you do not send in any snack that contains any type of nut or peanut butter.
Leader In Me:
Graham is a Leader In Me School! What does this mean? Students will be engrossed in the 7 Habits for Highly Effective People. These include; being proactive, beginning with the end in mind, putting first things first, thinking win-win, seeking first to understand, then to be understood, synergizing, and sharpening the saw. Students will be provided with many opportunities to take on leadership roles and responsibilities. These are great life skills and a wonderful way to have our students become ready for the real world and life experiences. Everyone is a leader at something... Here at Graham we are proud to be strong leaders!
What is Daily 5?
The Daily 5 is a literacy structure that teaches independence and gives children the skills needed to create a lifetime love of reading and writing. This is in place of "centers". You will really see a huge difference in literacy skills through the use of this program. (Read to self, Read to someone, Listen to reading, Work on writing, and Word work).
Websites for students to use at home:

Xtra Math - Excellent resource for basic math skills (Log-in information will be sent home)

BookFlix - BookFlix (Log-in information will be sent home)

Dreambox Learning - A math website that adjusts to your child's level.
Mrs. Clay
Welcome to Mrs. Clay's Kindergarten class!!
About Mrs. Clay: I have been teaching at Graham for 14 years and absolutely love Kindergarten. I have a Bachelors degree in Early Childhood and a Masters degree in Curriculum and Teaching from Michigan State University. My husband and I have three young children (Katie-8, Jake- 7, Anthony-3). I look forward to working with you and your child this school year!
Email Mrs. Clay
783-6460 Ext 2400
*A note in your child's take-home folder is always a great way to communicate
Specials Schedule for 2012/2013
Monday: Music
Tuesday: Physical Education
Wednesday: Art
Library Check-Out/Computer Lab
Thursday: Physical Education
Friday: Spanish
Mrs. Clyne
Jen Clyne
Welcome to first grade at Graham Elementary
Contact Me:
Voice Mail: Leave me a message at 783-6460 ext. 2401
Email: clyneje@lc-ps.org
Why e-mail? It is the fastest way for me to respond to you.
This is my 15th year teaching. I graduated from Michigan State University with a degree in Elementary Education. I have a Master's degree from The College of New Rochelle, NY in Reading and Language Arts. First grade is my favorite grade and I love watching the kids grow as learners!
I am married and have two beautiful children, Luke and Livi. We also have a dog named Sparty.
I am very excited to be a Penguin teaching first grade at Graham Elementary!
The students have been excited to use the iPads daily in first grade! In the morning we use the iPads for listening to reading and we use the iPad to reinforce vocabulary and comprehension during Reading Response Journals. In the afternoon, we use the iPads for DreamBox. The students love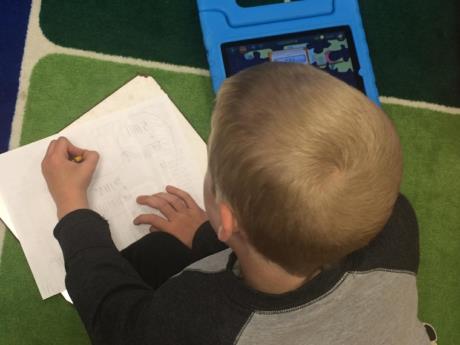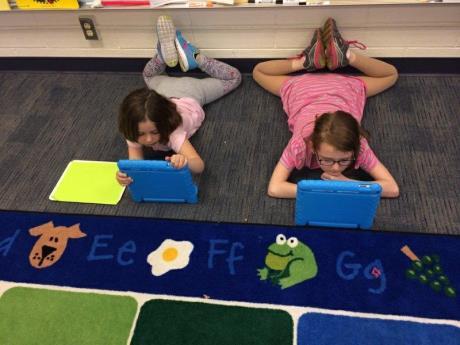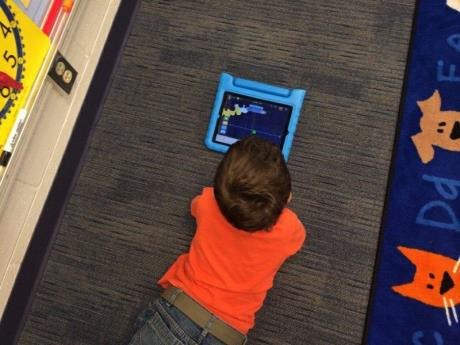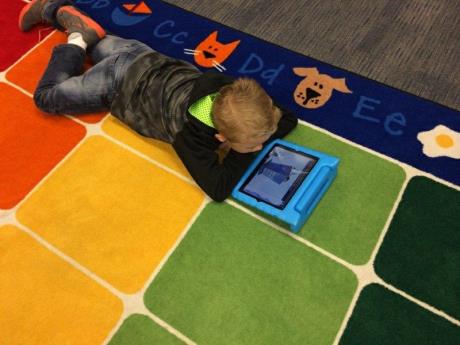 Quotes:
I love the I-pad because you don't need to use a mouse or headphones! It is so fun Tamya Hunt-Clayton
My favorite thing during Daily Five is listening to Bookflix on the I-pad. Owen Jennings
I love that the I-pad is a touch screen and everything is easier to see on the screen. Cassandra Gotz
Dreambox is the best on the I-pad, especially the Pirates and Pixies! Kaustyn Harris
We get to do lots of stuff on the I-pad, like Dreambox and Bookflix. It's so fun! Riaunna Adams
I like to lay on the carpet with the I-pad and listen to a good book. Leyton Mejia
Specials Schedule:
Monday:
Music and Library Checkout (remember your book)

Tuesday:
Spanish and Computer Lab

Wednesday:
Art

Thursday:
Physical Education (please wear your tennis shoes)

Friday:
Physical Education (please wear your tennis shoes)
and Computer Lab

Mrs. Diggan
I am so excited to be your child's 5th grade teacher this year! There are so many exciting things your child will experience throughout their last year as an elementary school student.
This will be my eighth year teaching. I have taught several different grades. I love teaching fifth grade because the curriculum is challenging and fun!
I have been married to my husband for almost ten years. We have a six year old daughter named Claire. She loves baseball, gymnastics and dance. We also have a four year old son named Joshua. He loves t-ball and football. We love to spend as much time outside as a family swimming and taking bike rides. In my free time, I love to read and spend time on the lake with family.
This year is going to be an amazing adventure and I look forward to making wonderful memories! If you need me for any reason, please e-mail me at diggash@lc-ps.org. You can also contact the school at 586-783-6460.
Miss Dudzinski
I am teaching fourth grade here at Marie C. Graham Elementary. I earned my Undergraduate Elementary Education degree from Wayne State University in Detroit, Michigan. I majored in Science. I then earned my Master's degree in Reading and Language Arts from Oakland University in Rochester, Michigan. I am a MTIP Scholar and worked in a partnership grant with Saginaw Valley State University as a Master Teacher.
I have been a part of the L'Anse Creuse Public School District for more than 20 years! I have done been at Graham for all of that time except for student teaching and some of my substituting career. I have headed Science Olympiad and Cyber Safety programs here at Graham, and really love to get children involved and thinking about their world.
Expectations-Miss Dudzinski's Classroom Rules
I will treat you with respect, so you will know how to treat me.
Feel free to do anything that does not cause a problem for anyone else.
If you cause a problem, I will ask you to solve it.
If you can't solve the problem, or choose not to, I will do something.
What I do, will depend on the special person, and the special situation.
If you feel something is unfair, whisper to me "I'm not sure that's fair," and we will talk.
Great Websites:
Internet Safety
Math
Reading
Science and Social Studies Websites
Mrs. Cleary
Mrs. Cleary's Fourth Grade
Welcome to our fourth grade home web page! Please visit my Weebly web page. There you will find various classroom web page links for math, reading and other subject area practice.
This is my 14th year of teaching and my 8th year with L'anse Creuse Public Schools. I have enjoyed teaching at several different L'Anse Creuse schools and I am happy to be teaching at Green Elementary this year. I have a Master's degree in Curriculum and Instruction from Michigan State University and I am Highly Qualified to teach both Science and Language Arts through the 8th grade.
Please feel free to contact me if you have any questions or concerns.
email: Clearca@lc-ps.org
voicemail: 586-493-5280 Ext. 2467
Mrs. Kohler
I'm so glad you stopped by!
Please e-mail me at kohlebo@lc-ps.org with comments or questions – I would love to hear from you!
Please let me introduce myself. My name is Bonnie Kohler and I am currently a third grade teacher here at Marie C. Graham – home of the Penguins. Born and raised in Ohio, I none-the-less call Harrison Township my home since moving here in 1972. My husband and I have two boys, both currently serving in the United States Navy. Erich, my oldest, graduated from LCHS in 2003; Alec graduated from LCHS in 2009. I have been actively involved with the L'Anse Creuse school district for the past 23 years, serving in a variety of capacities including Parent club president, Noon-aide, Kindergarten aide, paraprofessional and teacher.
Working with children as a Kindergarten aide helped me to decide what I really wanted to do when I grew up! Teach children to love learning. I earned my Bachelors degree in Elementary Education with a major in Science in 2001 and was lucky to have been hired upon graduation. I have been teaching at L'Anse Creuse for the past eleven years. Going back to school also ignited an insatiable need to keep on learning. I obtained a MAT Masters degree, major in reading and language arts from Oakland University, and earned an Education Specialist degree from Saginaw Valley State University.
In my spare time I enjoy reading, searching the U.P. beaches for agates, SCUBA diving, traveling to warm climates and especially spending time with my grandchildren and family.
Ms. Lawrence
Hi there! My name is Lyndsey Lawrence and I am one of the Special Education teachers at Marie C. Graham Elementary. This is my 3rd year teaching in L'Anse Creuse Public Schools.
Personally, teaching isn't just a job, or a day-to-day interaction with students. For me, teaching is a passion, a wish for students to learn and a drive to want to be right alongside them during their educational journey. For me, teaching is waking up every morning knowing you have the chance to make a difference in more than one child's life. For our students who are dealing with cognitive and emotional impairments, learning can be difficult. It can be frustrating and seem impossible at times. My goal is to be one of the people in their lives who help them strive to not only do their best every day, but to be their best every day. Even though our classroom may be filled with students who have different disabilities, come from different backgrounds, and live different lifestyles, we can all come together as one community to learn and help each other grow. We can create a safe, non-judgmental environment in which effective learning takes place alongside feelings of trust and mutual respect between teacher and peers. I will do my best to maintain this atmosphere for our students, just as they will help each other to keep our classroom as it should be. Each day is a clean slate, no matter what happened in class the day before. Each child is on the same playing and learning field, no matter the disability or background history. My philosophy of teaching can be wrapped up into one sentence: Never judge a book by its cover, instead, open it up and read what's inside. This is how I will treat my students, their parents, their extended families, and my co-workers. There is nothing more that I wish for than to make a difference in my students' lives, and I am willing to work as hard and as long as it takes to accomplish that goal.
My contact information:
School Phone #: 586.854.8779
Email: lawrely@lc-ps.org

Mrs. Lemmen
Welcome to 5th Grade!
Fifth grade is an exciting year and it is going to be filled with many new and interesting learning opportunities. This packet contains some information that may be helpful to you as we work together throughout the year.
Our Schedule:
School Begins 8:00 a.m.
Lunch 11:30 a.m.
Dismissal 3:05 p.m.
*Wednesday dismissal is always 2:05 p.m.
Specials:
Spanish. They will need tennis shoes for gym and need to return checked-out books on library day. Our schedule is as follows:
Monday: Spanish
Tuesday: Gym/Library
Wednesday: Music
Thursday: Art
Friday: Gym
Fifth Grade Extras:
Fifth grade at Chesterfield is very unique. Your child will have the chance to attend two special field trips towards the end of the year (more information will be sent home at a later date). As fifth graders, the students will participate in choir, mad money auctions, health classes, transition classes for middle school, classroom parties, graduation, fifth grade dance, etc. It is definitely an enjoyable experience!
I will be sending home a letter in January to review the costs and dates of these extra activities. The cost will be around $55.00 for everything. I will keep you informed as information becomes available.
Supplies:
Many families ask what supplies their child will need. I will supply all materials needed. If possible, however, students should have a backpack for their books and work. Please DO NOT send in Trapper Keepers or large binders because our desk space is very limited. Also, NO PHONES OR ELECTRONIC DEVICES ARE ALLOWED. If they are brought to school, the office will keep them until they are picked up by a parent.
Agenda:
All students will have an agenda. This is THEIR responsibility. Every morning they will write the day's lessons for each subject. As the students complete their work, they will check it off (if finished). If they do not finish their work in class, it becomes homework (Please expect homework on a daily basis). They will then take the agenda home and have it signed, or initialed, every night. Anything that is circled or highlighted is homework!
Students need to bring their agenda book back to class each morning. They will lose class money if they don't have their agendas, or if it is not signed. After three warnings, I will be contacting you. If the agenda is lost, the cost is $5.95.
Homework:
Your child will be assigned homework and at-home projects throughout the year. Homework is due the following morning (unless otherwise stated). If your child forgets, or does not complete his/her homework, he/she will receive a lower score for that assignment. Missing assignments can lower a grade quickly! Please understand that I am getting your child ready for middle school – missing assignments are not tolerated!
Please be advised that if your child's homework is not turned in on time, he/she still must do it and turn it in! He/She will also lose class money along with receiving a lower score. If your child is irresponsible on a continual basis, he/she will not be eligible for fifth grade activities.
Homework Folder:
All homework and parent notes/information will be brought home each day in the homework folder. Please review the graded assignments and check for parent notes. It should be emptied each night and returned to school the next day with any assignments or notes that are due. Also, look for newsletters to keep you up-to-date on the progress in our classroom. Open communication is very important to ensure success for your child!
Absences:
If your child is absent, I will have a buddy student record any assignments or projects that we completed for the day. This will be available when he/she returns. It is his/her responsibility to complete the work and turn it in as soon as possible. Generally, if he/she is absent for one day, then he/she will have one day to complete the work.
Grading:
Please look over your child's work with him/her. It is a good way to see strengths as well as areas in need of extra help or practice. Your child will be graded on participation, homework, written tests and class projects. A report card is sent home in December, March and June. Fifth grade students will receive letter grades on the report card for Science and Social Studies. These grades are according to the chart below:
100% - 90% = A
89% - 80% = B
79% - 70% = C
69% - 60% =D
59% or lower = E
In Math and Language Arts, your child will receive an "S" for secure, "P" for progressing, and a "B" for beginning. If he/she receives an "S", he/she has mastered the concept and is secure in that particular area. If he/she receive a "P", he/she is still working on the concept and is progressing in his/her learning. If he/she receives a "B", then he/she is just beginning to understand and needs support both at home and in school.
Curriculum:
Science: We will cover physical science topics (matter, force and motion), life science topics (organization of living things, evolution and heredity) and earth science topics (Earth's systems and space). We will also study the Scientific Method and complete an inquiry project.

Social Studies: We will learn about the Core Democratic Values, economics, geography, civics, early explorers, the original 13 colonies and the American Revolution.

Math: The students will have homework pages to work on at home almost every night. Before we start a new unit, I will send home a parent note detailing what will be taught. At the end of each unit, students will be given a unit study guide to prepare for the test.

Reading: Students will take part in a balanced literacy program. They will work in groups of 7-10 students and learn strategies to become better readers. They will learn new vocabulary and have a variety of tasks to supplement each new book they read.

Spelling: Students will take a spelling test in the first couple weeks of school. This will allow me to group the students based on their needs and to give them work lists that are appropriate for their level. Students will get work lists on Monday, as well as weekly assignments that are due on Friday. Spelling tests will be given on Fridays.

Writing: The students will write across the curriculum. They will write narrative stories, extended responses, constructed responses, journals, reading logs, poetry, letters, etc. Students will be communicating orally and visually in addition to written communication. Emphasis will be put on good listening and speaking skills.
Class Auctions:
Your child will have the opportunity to earn "class money" for positive behavior and successful learning. In December and in June, I will have an auction where your child can bid for items of his/her choosing. I have already begun to collect and purchase items they would be interested in. However, this is quite costly, so I am also seeking donations. I will send home a reminder note before our auctions. These items do not have to be expensive, but I do ask that the items be unused. We would truly appreciate any donation. Some ideas for auction items are: Gift certificates (bowling, McDonald's, videos, movies, etc.), colored markers, pencils, pens, etc. , books, puzzles, games, one-use cameras, posters, toys, etc.
This reward system is extremely popular with both parents and students. Last year there were over 150 items for the December auction and 180 items for the June auction. The auctions were quite a success! It is amazing how much "class money" the students earned due to good behavior and successful learning. However, the money can also be taken away for missing assignments, negative behavior, lack of responsibility, etc.
PBIS:
This stands for Positive Behavior Intervention Support. This is a comprehensive plan that has been instituted school-wide. Please refer to your parent PBS handouts and review the information. Part of the PBIS program is the stoplight that can be found in each classroom. If your child has broken a rule, he/she will receive a warning, have his/her clip changed to yellow and lose class money. If the inappropriate behavior continues, the student will move his/her clip to red and lose class money. A parent will be contacted when a student's clip is on red.
For extreme behavior issues, clips will be changed immediately to red and the student will receive a caution card. This must be signed by a parent/guardian and returned the next day. Good behavior and responsibility is a must in order to enjoy the fifth grade activities.
Book Orders:
Book orders will be sent home throughout the year. Children are under no obligation to purchase books. However, for those who do order, it is a very exciting day when our new books arrive! This is a wonderful opportunity to buy books for low prices. Checks should be made out to: Scholastic Book Clubs. Please do not send cash.
Birthdays:
Students may bring in treats for birthdays. All that I ask is that you provide the necessary paper products and treats for 35 students. If your child's birthday is in the summer, he/she may pick a day near his/her half birthday to bring in treats.
Snacks:
If your child would like, he/she may bring in a nutritional snack to eat. Each morning we will have a 15-minute snack period. Please pack the snack separately from their lunches so they can find it more easily. Also, make sure it is healthy! Examples are: Nutri-grain bars, fruit, yogurt, applesauce, etc.
If at any time you would like to speak with me, please call 493-5240 ext. 2466 and leave a message. You can always e-mail me at lemmeta@lc-ps.org, as I can check this throughout the day and get back with you. Another option is to leave a note in your child's agenda. Thank you for your support and I look forward to another successful school year!
Mrs. List
Welcome to Mrs. List's Third Grade!
Contact information:
listsa@lc-ps.org

Welcome to Graham ! My name is Sarah List and I will be your child's teacher this year. I am very excited to work with your child and I am looking forward to a great year!
I graduated from Northern Michigan University in 1982 with a bachelors degree in Elementary Education. I found my love of plants after I graduated and worked for Bordinne Nursery for many years as we started our family. My Husband and I have three children: Jennifer, Kevin and Emily. I have enjoyed getting back to teaching young children and seeing their love of learning as the year progresses.
Newsletters:
Please take the time to read through each newsletter. They are sent home in the daily folders every week and e-mailed to those who have the access to computers. Newsletters contain information such as:
Important dates
Weekly classroom updates
Field Trip information
Information on Graham events
Reminders
And...much more!
Special Schedule:
Monday Music
Tuesday Gym
Wednesday Gym
Thursday Art
Friday Spanish
Websites:
Mr. Mette
Welcome!
My name is Michael Mette, and I have been an Elementary Physical Education teacher in L'Anse Creuse since 2011.
I am a graduate of L'Anse Creuse North High School and Wayne State University.
As a professional educator my goal is to teach children how to maintain and enjoy a physically active and healthy lifestyle. By doing so, I am encouraging each child to develop to his/her fullest potential.
I can be reached at mettemi@lc-ps.org
Mrs. Shibley
About Mrs. Shibley
This is my eleventh year teaching at Graham, I truly love being a penguin! Prior to teaching fifth grade, I taught special education here at Graham. I love teaching fifth grade, it is exciting for the students to hit the milestone of no longer being an elementary student by the end of the year! I love that I get to share in their excitement with them!
I have been married to my husband, Mike (an electrical engineer) for nine years. Together we have a son, Ethan who is six years old and is in first grade. He loves baseball! We also have a four year old daughter, Addison, who will be completing her last year in preschool this year. She loves gymnastics! In my spare time I love to camp, canoe, read, travel to new and exciting places, and relax with friends and family.
This year will bring so many new and exciting experiences. I'm excited to be introducing Leadership skills to the students this year, I feel it will be incredibly beneficial to them!
I look forward to learning more about you and your family throughout the year!
The quickest way to reach me is through e-mailing me at shiblam@lc-ps.org
But you can also always leave me a voice mail at (586) 783-6460 ext. 2423
Mrs. Spica
Kristie Spica
Welcome to first grade at Graham Elementary!

E-mail me at spicakr@lc-ps.org
Leave me a message at : (586) 783-6460 ext. 2410
I have been teaching in L'Anse Creuse Public Schools for 14 years.
I have taught 1st grade, 3rd grade, and Kindergarten.
I graduated from the University of Michigan - Dearborn, with a major in Mathematics and a minor in Language Arts.
I also have a Master's degree from Oakland University in Reading and Language Arts.
I am married and have two wonderful children, Avery and Katelyn. We also have a dog named Oscar.
I am very excited to be a Penguin teaching first grade at Graham Elementary!
Specials Schedule:
Monday: Physical Education (Please wear your tennis shoes)

Tuesday: Physical Education (Please wear your tennis shoes)

Wednesday: Music
Library Check-Out (Bring your library books)

Thursday: Spanish

Friday: DreamBox Learning at the Computer Lab
Art
Websites to visit:
Here are some great websites to visit at home. They will give your child extra practice and are lots of fun! Enjoy!
Star Fall - Lots of fun alphabet and literacy games. We use this site often in class, so the students are very familiar with it!
Jan Brett - Jan Brett is a author of many books the children have read, including Gingerbread Baby, The Mitten, The Napping House, Goldilocks and the Three Bears, etc. This site has many fun activities!
PBS Kids - Play educational games, watch PBS KIDS shows, and find activities like coloring and music!
J Math - There are many different activities to support each of the Math strands. This site turns these concepts into fun and exciting games for the students
Mrs. Udvari
Welcome to Mrs. Udvari's Kindergarten Class!
Room 105
School Phone Number: 586-783-6460
This is my 10th year teaching kindergarten at Graham!
Star Fall - A website that we frequently use in the classroom
My e-mail address is
udvarla@lc-ps.org
Specials Schedule:
Monday-Music and Library Check-out
Tuesday- Spanish
Wednesday-Art
Thursday-Gym and Dreambox
Friday-Gym
Daily Schedule:
Shared Book-Daily Reading Strategies
Daily Five
Writer's Workshop
Lunch/Recess
Bathroom/Drinks
Math
Snack
Free-Choice Centers(Centers include science, social studies, art, fine-motor activities and computers)(Thursday and Friday)
Math Menu
Science/Social Studies
Go Home!