Creuse Cafe'
The Culinary Arts Program at The Frederick V. Pankow Center has been preparing students for over 40 years. We have a unique approach - small classes in a real-world setting, taught by working professionals from the fields they teach. Our chef's and instructors are here to train students in both the art and the business of the food service industry.
Welcome to The Creuse Cafe', a teaching restaurant, and a one-of-a-kind dining experience. The Creuse Cafe' is a working classroom staffed and operated by students enrolled in the Culinary Arts program at the Frederick V. Pankow Center. Students learn how to run a kitchen and dining room in real-world environment. The students are exposed and rotated through all of the various positions within the Front and Back of the House while preparing food and servicing quests. As our guest, you are participating in their education.
The Creuse Cafe' displays a quick casual dining atmosphere where guests are able to grab a snack to go or dine in. We offer ala carte specials on soup, salad, sandwiches, entrees and desserts. We are extremely proud to feature our Chef's Table where students prepare and present your food right in front of you!
As you enjoy your meal, please remember that your server or cook may be an advanced student or a beginner. Your satisfaction today is an important part of their training, but their education is what matters most. Tipping is not required, but graciously accepted. All gratuities are pooled and used for student reward and recognition meals. Thank you for your patronage and your patience.
Current Menu
The Creuse Café is located inside the Frederick V. Pankow Center at 24600 F. V. Pankow Boulevard in Clinton Township.
The Creuse Café provides food services November through April excluding half-days, exam days and other school closings. Occasionally, the Creuse Café may have to be closed unexpectedly for school use and will be closed December and January for seasonal catering events and will reopen in February with our new ala carte menu.
Hours of Operation:
February 14 & 15 (Wed. & Thur.) AVAILABLE FOR CARRY OUT 11:00 a.m. – 1 p.m.
February 22 & 23 (Thursday & Friday) 10:30 a.m. – 1 p.m.
Creuse Café Menu for February 14 & 15
•Three Bean Chili w/Sesame Roll
•Garden Salad w/ Sesame Roll
•Greek Salad w/Sesame Roll
•Chicken Pita
•Steak Fries
Creuse Café Menu for February 22 & 23
For Starters…
Black Bean Cakes- Grilled chicken, green onions, black beans, and cilantro served with sour cream & Salsa $3.00
Spring Rolls- Ground chicken, pork sausage, carrots, cabbage, onions, ginger, and garlic fried in a crispy won-ton skin served with sweet and sour sauce. $3.95
Savory Soups…
Three Bean Chili- House prepared ground beef chili made with sweet peppers, tomatoes, carrots, celery, onions and a blend of three beans. Cooked with mild spice and topped with melted cheddar cheese. Served with a side of sour cream.
Bowl $3.50 / Cup $2.00
Going Green …
Greek Salad - Mixed greens with diced tomatoes cucumbers, onions, olives, banana peppers, carrots, beets and crumbled Feta cheese. Served with Greek style dressing. Large $4.00 / Small $3.00
Garden Salad – Mixed greens with tomatoes, cucumbers, onions, beets and carrots. Topped with croutons and served with choice of dressing. Large $4.00 / Small $2.50
House dressings include: Ranch, Raspberry Vinaigrette or Greek.
*Grilled chicken breast can be added to your salad for an additional charge of $1.50
Lunch Entrees…
Grilled Chicken Pita - Grilled chicken breast with lettuce, tomato, onion and American cheese. Wrapped and served in a warm pita with ranch dressing and choice of side. $5.00
Mini-Creusers - Our version of the classic Slider. Petite grilled ground beef hamburgers topped with caramelized onions and melted American cheese. Served with deli pickles and your choice of side $5.50
Lunch Entrée sides include: Steak fries, small garden salad or fresh fruit salad.
Daily Specials.. Ask your server about our feature menu item of the day.
Ask your server about menu items that are cooked to order or served raw. Consuming raw or under cooked meats, poultry, seafood, shellfish or eggs may increase your risk of food borne illness.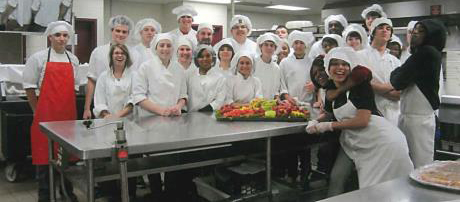 Catering Menu
Let us cater your special event!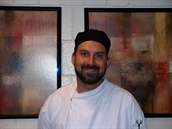 We offer an extensive menu selection available for in-house service or pick-up. Place a reservation for your event inside our student-operated restaurant or pre-order for pick up.
For further catering information, or to schedule an event; please contact Instructor Scott Satterly at (586)783-6570 extension 2433
Restaurant hours of operation
10:00 am-1:30 pm Thursday and Friday excluding exam days, half days, and school closings.
Please view our menu and calendar for the most accurate monthly schedule.
Prices do not include tax or gratuity. Final counts for reservations must be received 24 hours in advance.
Chef Scott Satterly
Culinary Instructor
Chef James Baldwin
Baking and Pastry Instructor
Julie Rak
Dining Room Instructor