Sports / Coaches
Baseball
Varsity Baseball Coach
Jeff Dropps
248-802-6710
586-493-5200 ext. 2710

JV Baseball Coach
Terry Ebury
493-5270 ext. 121

Freshmen Baseball Coaching Staff
Nick Ivone
Jordan Frame
Cross Country
Head Coach
Bryan Stewart
lcnxc.stewart@gmail.com
www.LCNAthletics.com
Bowling & Hockey (Club Sports)
Bowling
Coordinator
Dennis Crescenti
dhscres020213@att.net
Hockey
Coach
Jon Nader
(586) 783-6400 ext. 2463
LaCrosse
The LCN Lax Coaching Staff hopes you're excited about the upcoming Season! We're expecting great things from you guys this season!
Do you have a Cable subscription with ESPN?
College Lacrosse
Varsity Coaches
JV (A) Coaches
Freshmen (JV -B) Coach
LaCrosse Concessions
By clicking on the link below you will be directed to the website that is called SIGNUP GENIUS. This is a program that we have implemented through the Athletic Booster Club that allows the parents to sign-up directly for their own sport. It also allows the parents to work a different event if that day works better for you. Please be sure to include what sport you are representing so your sport gets credit for the time slot. Thank you in advance for your support of the Athlete's here at LCN.
Would you like LCN LACROSSE Sandals?
See Coach Light if you are interested.
Bumper Stickers, Window Stickers & Patches: $3 each.
Special thanks to Fine-Lines Graphics for all they do to support LCN Lacrosse!!!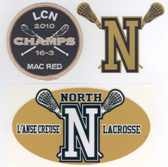 Pre-Season
Preparing to be our best.
This season is quickly approaching!
Will you be ready? For US\\us to be prepared for the upcoming season we need for you to have:
A Physical on file before the first day of classroom/conditioning.
An Interim Medical History form signed & in your coach's hand before the first day of classroom/conditioning.
And the Three D's that will make this season a success - Desire, Discipline & Dedication.
We are looking forward to the upcoming season & we can't wait to get this season started!
Soccer - Boys
Varsity Boy's Soccer Coach
Mr. Elmir Sabanovic
Junior Varsity Boy's Soccer Coach

Coach Sabanovic
Hello! My name is Elmir Sabanovic. It is truly an honor and a privilege to be the head varsity soccer coach and a math teacher at L'Anse Creuse High School North.

As a youngster, I played in youth soccer programs in Bosnia where I was born. After moving to the United States, I attended L'Anse Creuse High School where I played varsity soccer for four years. In the off-season, I played soccer on organized club/travel teams indoors and outdoors. While attending Baker College for my teaching degree, I played soccer on various teams in the Michigan Premier Soccer League as well volunteered to coach youth teams. Through out my soccer career, I have achieved various individual and team awards that have helped me reflect on my personal experiences and build stronger qualities as a coach and a player. I also hold the Youth, E and D level soccer coaching licenses from the Michigan State Youth Soccer Association.